23rd September 2021 Event
Topics about Cybersecurity (Episode II)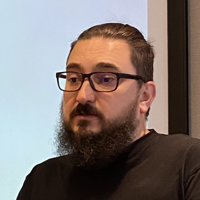 Paul Jung
Excellium
Paul Jung is since a long time a security enthusiast. He works in the security field in Luxembourg since more than two decades. During this time, Paul has covered operations as well as consulting within various industries. He possesses a wide range of skills and experiences that enable him to perform multiple roles from offensive security audit to security incident handling.
Topics about Cybersecurity (Episode II)
Other Threat Landscape
Review of current threats outside of "malware", what are the different attacks exploited, how "phishing" works from behind the scenes, what are the weaknesses of "Active Directory" systems and how they are exploited.
Case : breach for money
Feedback on an incident aimed at injecting a money transfer to the accounting department.
Att&Ck Framework
MITRE ATT&CK is a globally accessible knowledge base on attacking tactics and techniques. The ATT&CK knowledge base is used as a basis for the development of threat models and methodologies. This subject provides a concrete understanding of this framework in order to integrate it into our operational defense.